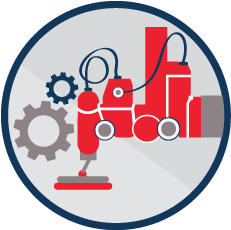 Fixtures for photogrammetry
In the field of car light testing, Opus ST provides its expertise and designs custom fixtures for photogrammetry.
Specific fixtures for car light control
Fixtures for photogrammetry enable to measure the deviation of a ray of light. They are used for instance to test car lights.
Opus ST recommends this set-up to carry out the most accurate reading for car light testing.
Each parameter is taken into account
In car light testing, part orientation is paramount. To ensure that the optical measurement is accurate and the fixture for photogrammetry is not distorted we provide fixtures that are black anodised.
A strong expertise serving your specific needs
For your inspection activity, we study your requirements carefully and make sure we understand your manufacturing process. Our broad array of products enables us to offer the solution that meets your objectives in the appropriate timeframe.
Partners in the long run, they adapt their offering to your requirements.
Your request

Information

Additional material
Additional information
Please describe your need